PLEASE NOTE: We are now handling our online orders through CD Baby! Although they are closing their direct online store as of March 30, 2020, they are distributing through Amazon, iTunes and other music sites. Details below. Please click on the link above to check out Carolina's store, or just click the Amazon link here: Amazon.com
NEW FOR 2019: YODELING BLONDE BOMBSHELL VOLUME 3
The newest Carolina Cotton album, "Yodeling Blonde Bombshell Volume 3" is now available! This is a collection of great songs from her radio appearances (including another full episode from "Carolina Cottton Calls"!). Most of these high quality, restored recordings have been "hidden" for decades.
This album is not availabe as a CD. But you can get it as a download (individual songs too) on iTunes and Amazon.


To hear song samples from Volume 3 on Amazon,

click here
For more info about Volume 3,

click here
GOSPEL ALBUM:
HYMNS OF THE OLD WEST

We have been asked over the years, "Did Carolina ever put out
a Gospel album?" Although she didn't record any gospel songs,
she did sing backup on several hymns performed on the radio. 


Now, for the first time, these wonderful songs are available on
the new album "Hymns Of The Old West", with 18 traditional hymns
performed by such classic Western Swing greats as The Plainsmen,
Foy Willing & The Riders Of The Purple Sage, Slim Duncan, Martha
Mears & Art Wentzel. And if you listen closely, you may just hear
Carolina Cotton singing with the band!

This album is available download only) at most online outlets,
including 

Amazon 

and iTunes.




Download from Amazon here





Check out a sample of the album in the video!

 

________________________________________________________________________
VOLUME 2 AVAILABLE AS CD AND DOWNLOAD
"Yodeling Blonde Bombshell Volume 2", the follow-up CD to Volume 1, features a new compilation of Carolina's favorites, rare tracks...and, of course, another full-length episode of "Carolina Cotton Calls", her own radio show! To hear song samples from Volume 2 on Amazon, click here

***** SPECIAL OFFER FOR VOLUME 2 CD *****
We are now offering the Volume 2 CD at a special rate, on
Ebay! Click here

For more info about Volume 2, click here



---
The first Carolina Cotton CD compilation, "Yodeling Blonde Bombshell Volume 1", is currently unavailable. But you can still get the album as an MP3 download through Amazon and iTunes.


Included in Volume 1 are some well-known favorites, rarities and a full radio broadcast of her own show, "Carolina Cotton Calls"! Click here to hear song samples on Amazon: Volume 1 samples

For more info about Volume 1, click here

Both albums feature high-quality, fully restored recordings from the personal collection of Carolina and her family.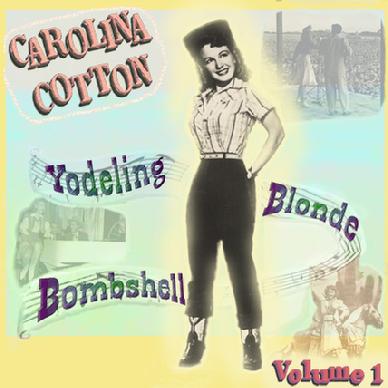 Click on album to order online.

_________________________________________________________

Each Volume 2 CD is just $14.95, + shippping & handling. (Volume 1 is currently sold out). PLEASE NOTE: Online orders (debit & credit cards) are now handled through online stores such as Apple iTunes and Amazon. Mail-in orders are still handled through us, at the same address. Complete details can be found by clicking the tab "Order Help".

TO ORDER ONLINE ON AMAZON, via credit/debit card: Click on the link
below, to enter Carolina's store, at: Amazon.com.

TO ORDER BY MAIL:
CDs are sent via U.S. Postal Service.
Shipping & Handling:
Within the U.S.: $5.00 (priority) for up to 4 CDs.
Overseas: $5.00 First Class, $10.00 Priority (up to 4 CDs).
(For orders of 5 or more CDs, please email for S&H costs).

Please send a check or money order to:

Carolina Cotton.Org
P.O. Box 730
Bakersfield, CA 93302

All packages will be shipped out within 1-3 days processing of your order. (Please allow a few days extra, when sending a check).




__________________________________________________________


Download Carolina's songs on iTunes!




Now available...All songs from all 3 Yodeling Blonde Bombshell albums! Volumes 1, 2 and 3 to enjoy in your MP3 player! Any individual tune, or the entire albums. Only 99 cents per track, or $9.99 for the whole album. Just click on the poster on the right, and download from the Apple iTunes store.