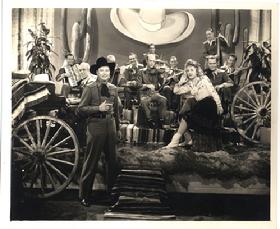 Carolina with the Deuce Spriggens Orchestra, ca. 1946

Known far and wide for her incredible yodeling style, Carolina got her big break while living in San Francisco. She joined Dude Martin's Roundup Gang, in 1942. It wasn't long before she moved to Hollywood--the mecca of Western Swing. She became the female vocalist in Spade Cooley's Orchestra, in 1944. From there, Carolina sang and toured with a host of greats: Deuce Spriggens Orchestra (featuring Andy Parker the Plainsmen Trio), Merle Travis, Hank Penny, Bob Wills, the Sons of the Pioneers, and many more.

She recorded for King, MGM and Mercury records, plus a couple of lesser-known labels (Crystal and Mastertone). Among her best known songs are 3 Miles South of Cash in Arkansas, I Love to Yodel, Nola, I Betcha I Getcha and a beautiful version of the Cattle Call, performed on Ernest Tubb's Navy Country Hoedown radio series.

Watch for more stories about her musical adventures.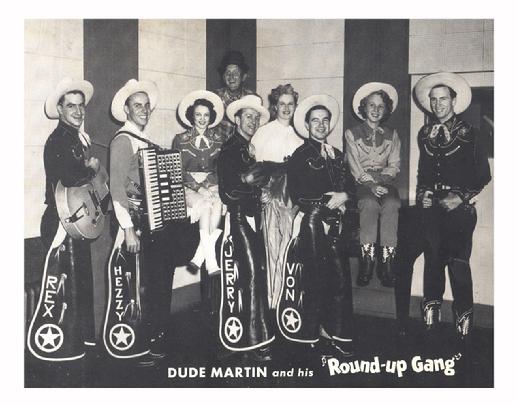 Dude Martin and His Roundup Gang at station KYA, ca. 1942-43. L-R: Rex Gallion, Hezzy Johnson, Arvada Miller, Jerry Hutchison, Peggy Martin, Von Gallion, Carolina and Dude Martin. The guy in back with the bowler hat was also a member, Red "Jughead" Gillham. Bandmates came and went from Martin's group, especially during the War Years.
OPEN UP THAT GOLDEN GATE: DUDE MARTIN

Musical talent ran on both sides of Carolina's family. Her father's father played the Stradivarius in Sweden. Grandpa Dodson used to play hoedown-style fiddle. As a child, little Helen (her given name) would listen to records on the family's wind-up Victrola, and began singing--and even tried yodeling--to songs on the radio.

Once she moved to San Francisco and joined the O'Neille Sisters Kiddie Revue, her own musical talents began to blossom. She performed at least 2 shows a year at The Golden Gate Theatre. It was the perfect place to experience the latest and greatest bands. Jazz legends such as Ted Lewis, the Kay Kayser Band and others were booked there, and were an inspiration to the up-and-coming O'Neille girl.

She learned to play ukulele onstage, as well as dance. Eventually the Revue expanded and she began singing. Helen refined her stage craft wherever she had the chance...playground tours, parks, and appearances at the 1939 Worlds Fair.

After winning the Larry Keating amateur radio contest in the early 1940s, western bandleader Dude Martin took interest in Helen. She started visiting Martin's radio shows at stations KPO and KYA. She got to know the band and took steel guitar lessons from Roundup Gang guitarist Rex Gallion. Helen got her break when Matrin's vocalist Arvada Miller (also a great yodeler, and an early influence) left the group. Helen just happened to have a Union card, and barely knew enough material to join the group, in August 1942. She soon learned to barely play enough of everyone else's instrument, whenever they were drafted into the military for World War II ! She also began yodeling, since their former vocalist was also a yodeler. It was Martin who encouraged Helen to change her name to Carolina.

__________________________________________________________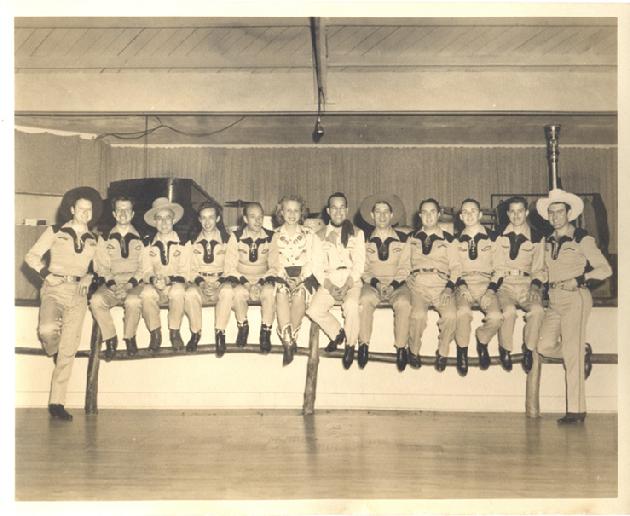 The Spade Cooley Orchestra, at the Riverside Rancho, ca. 1945. L-R: Deuce Spriggens (bass), Frank Buckley (accordion), Eddie Bennett (piano), Johnny Weis (guitar), Rex Call (fiddle), Carolina Cotton, Spade Cooley, Smokey Rogers, Muddy Berry (drums), Joaquin Murphey (steel gtr), Spike Featherstone (harp), Tex Williams. Some of these talented musicians doubled on other instruments.






DOWN BY THE RIVERSIDE: SPADE COOLEY

When Carolina went to Hollywood to get costumes, she eventually met Spade Cooley. For a short time, she would play in Cooley's band and do her first films with them...then go back to the Bay Area and play in Martin's band. Dude gave Carolina the ultimatum to either belong to one band or the other. It was a painful decision, but she moved to Los Angeles and joined Cooley.

Carolina was the featured yodeler in the Spade Cooley Orchestra, from 1944-1945. The band had great musicians at that time...Joaquin Murphey (steel gtr), Tex Williams (vocalist), Smokey Rogers (guitar / vocalist), Tiny Hunt and Rex Call (fiddle), and Deuce Spriggens (bass fiddle). Carolina also shared bass fiddle duties with Spriggens. The band performed regularly at the Riverside Rancho, as well as stints at the Sunset Rancho and the Aaragon Ballroom. They made soundies (early music videos), and appeared in the films "The Singing Sheriff", "Outlaws of the Rockies" and "Texas Panhandle". At the same time, Carolina did occasional "Swing Shift" shows in Santa Monica, with Merle Travis, in 1945. She also did a few soundies with his group. A clever businesswoman named Bobbie Bennett was Spade Cooley's manager. It was Bennett who held a contest to give the Yodeling Blonde Bombshell a last name, as she only known as "Carolina". And Cotton was the winner.


_________________________________________________________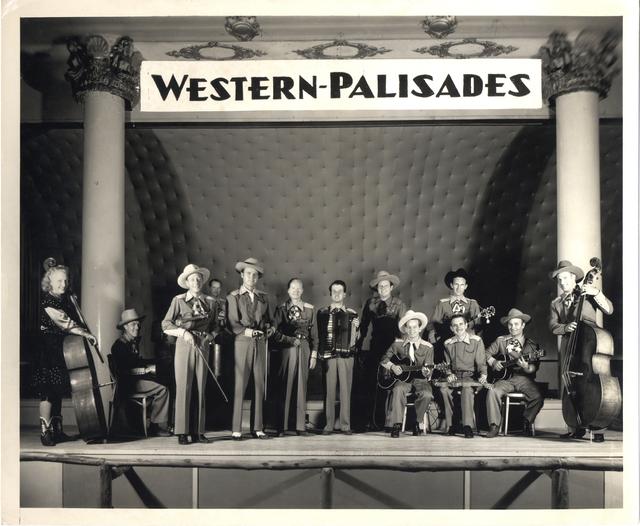 The Deuce Spriggens Orchestra, ca. 1945, at the fabulous Santa Monica Ballroon...renamed the Western Palisades Ballroom. The nightly entertainment was broadcast on the radio program "Cavalcade of Western Music". L-R: Carolina (bass); Eddie Bennett (piano); Rex Call (fiddle); Red Fox (drummer, bkgd); Tex Atchison (fiddle); Frank "Gibby" Gibson (fiddle); Frank Buckley (accordion); Deuce, Ray "Charley" Morgan (guitar, sitting); Andy Parker (standing, gtr); Ralph Miele (steel gtr); Bud Langley (gtr, sitting); Hank Caldwell (bass). The band may have gone through as many as 3 different drummers: Red Fox, Don Piano and Tommy Mills.


SINGING ON THE TRAIL: DEUCE SPRIGGENS

While in Spade Cooley's band, the working relationship between Carolina and bassist Deuce Spriggens blossomed into a romantic one. By the summer of 1945, they secretly married. The two left Cooley and formed their own band, the Deuce Spriggens Orchestra. Some of Spade's other bandmates also ended up joining this group...among them Eddie Bennett, Rex Call, Frank Buckley and Gibby Gibson. The new group also recruited the well-known Plainsmen Trio, and fiddle player Tex Atchison. Needless to say, it was a very talented outfit. (Soon afterward, Tex Williams and the rest of the Cooley Orchestra left Spade, to form the Western Caravan. Deuce would later join them).

The Spriggens Orchestra played nightly at the Western Palisades Ballroom, on Santa Monica Pier...then known as the largest ballroom on the West Coast. The music was broadcast as a radio show, The Cavalcade of Western Music, on station KFI. They also appeared on the Melody Roundup radio program.

Spriggens' group made a few soundies, appeared in 4 films: "Song of the Prairie", "That Texas Jamboree", "Cowboy Blues" and "Singing on the Trail"...and made a recording for Mercury Records, all between 1945 and 46. Unfortunately, Carolina and Deuce's marriage ended in divorce by July 1946, and The Spriggens Orchestra disbanded.


__________________________________________________________


UN-HITCHED: OUT ON HER OWN

After the breakup with Deuce and the Orchestra, Carolina was now without a band. But that didn't slow her down. She soon returned to her old haunt, the Riverside Rancho, to join up with Hank Penny and his group. Once again the crowds packed in to hear the Yodelin' Blonde Bombshell and Penny's unique flavor of jazzy Western Swing. It's unknown just how long she appeared with the group, but one thing was becoming clear...her popularity grew, and she was increasingly making a name for herself.


Carolina with Hank Penny and his band, ca. 1946, at the Riverside Rancho, "Home of Western Music". According to one ad, you could enjoy dancing to the group "every Friday, Saturday and Sunday". L-R: Eddie Bennett, Unidentified, Fred Cianci, unidentified, Ralph Miele, Doye O'Dell, Max Fidler, Bob Caudana, unidentified.
In the Fall of 1946, Carolina signed with the newly-formed record label, King. She was backed by Hank Penny's talented band for the project. They recorded 4 sides for release, including "I Love to Yodel", and "3 Miles South of Cash (in Arkansas)", both of which she wrote. The other 2 were Singing on the Trail, and Mockingbird Yodel, written by her former bandleader, Dude Martin. Also recorded were 4 unreleased songs.

That same year she did the AFRS Ranch House Party shows, working with the popular Foy Willing and the Riders of the Purple Sage, and her former Spriggens Orchestra alumni, The Plainsmen.

In 1947 Carolina went on a whirlwind summer tour of the Western states, with none other than Bob Wills and his Texas Playboys (see photo in History section). She joined Al Dexter, the McKinney Sisters and Hal Burns on this tour. They also made some radio broadcasts along the way. Later that year she recorded a couple of songs on the Crystal label: "Chime Bells" (with the Henry Schelb "Orchestra"...and/or what sounds like a theatre pipe organ), and "You've Got Me Wrapped Around Your Finger" (with the Broome Brothers).

Most of '48 was spent doing radio, TV, film and festivals, but the Yodeling Blonde Bombshell did go on a November tour with the Western Jamboree (aka Cavalcade of Western Stars): Cottonseed Clark, Texas Rangers and Shug Fisher.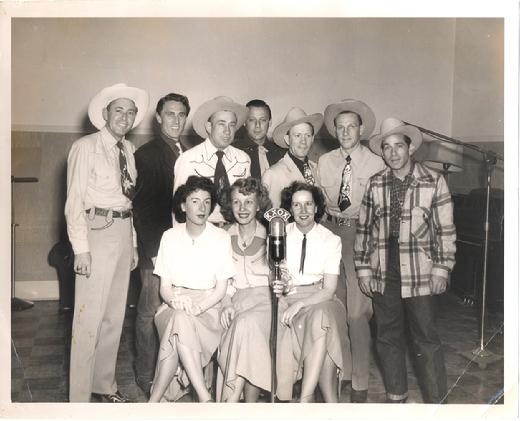 Sons (and "Daughter", center) of the Pioneers on tour, making a radio appearance at KXOX in Sweetwater, TX, 1949. The tour ran from the end of February through the beginning of April, with shows in Southern California, Arizona, New Mexico and Texas.


In the Spring of 1949, Carolina was honored to go on another Western states tour, and accompany the legendary Sons of the Pioneers. She became the only touring "Daughter" of the group. On the heels of this tour came the "Chuck Wagon Cavalcade" show with Eddie Dean, Curt Massey, Max Terhune, Brittwood and old pal Cottonseed Clark. (see Appearances page). In between touring and her other projects, Carolina somehow found time to cut another 2 records, this time for Mastertone: "Put Your Shoes On Lucy" (which she later sang in the movie "Feudin' Rhythm"), and "The Hoosegow Serenade" (with Scotty Harrell). Another song appeared on one side of a different Mastertone disc, "The Old Square Dance Is Back Again" (also with Scotty Harrell).


_________________________________________________________


THE CAT'S MEOW: MGM

1950 marked exciting new changes in Carolina's career. She was playing more of a leading role in her films. There was talk of her own TV series. And MGM just signed her to a new recording contract.
After her successful appearance at the Village Barn in New York City, she immediately embarked on a month-long tour with Ramblin' Tommy Scott, and his Hollywood Hillbilly Jamboree. They appeared on several Theatre stages across the Southwest, entertaining moviegoers who also came to see the Eddie Arnold film "Hoedown", in which Carolina co-starred with Jock Mahoney.


Carolina headed off to Nashville in March of that year, to the landmark Castle Studio. There she recorded 4 new songs. "I Betcha I Getcha" (titled "Betcha I Getcha" on the label) and the accompanying "You're Gettin' a Good Girl" had a more contemporary sound. The record was also one of the few in which Carolina didn't yodel. But her trademark style returned with her next release, "Lovin' Ducky Daddy" (also revised for the Autry movie "Apache Country") and a song she penned, the "Boo Hoo Blues".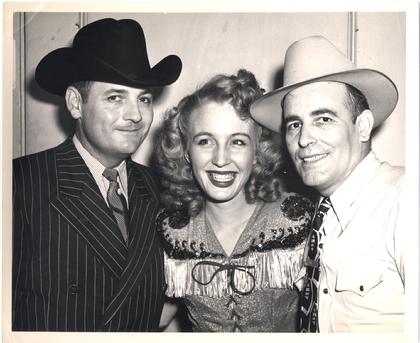 Carolina with Tommy Duncan (L) and the great Bob Wills (R). After touring together in 1947, she and Wills reunited on MGM Records in 1951. One of the 4 songs recorded was a remake of "Three Miles South Of Cash", which they also performed for a Snader Telescription.
By 1951 Carolina reunited with Bob Wills and His Texas Playboys. Together they recorded 4 more MGM songs, at the landmark Radio Recorders studio in Hollywood. They reinvented "Three Miles South of Cash" as a duet, and backed the record with the bluesy "I'm All Alone". The 2nd record featured the song "You Always Keep Me In Hot Water". Its B side, "Cause I'm In Love", was later sung in the Durango Kid movie "Rough Tough West" (with Pee Wee King's band, and a lyric or two by Smiley Burnette). Carolina and Bob Wills also made a couple of lively Snader Telescriptions...one of them being "Cash", the other "Yodel Mountain".

The next MGM session took place in New York, in August 1952. For this recording, no expense was spared...Carolina recorded 2 songs with the LeRoy Holmes Orchestra. "Nola" was a true showcase of her yodeling talent. It even featured a technological breakthrough, "sound-on-sound" (this was before the days of common multitracking), giving the illusion of her yodels echoing across the mountaintops. The other song, "Yodel Yodel Yodel", was also used in the Autry movie "Blue Canadian Rockies". There were big plans to push the record. Unfortunately, with the New Year of 1953 came the tragic news that fellow MGM recording artist Hank Williams had died, and there was an even bigger push for his work. Alas, the "Nola" and "Yodel" was to be Carolina's last label-recording session, but it was certainly a grand way to do it!
__________________________________________________________


OVER THE WAVES: MUSIC FROM RADIO PERFORMANCES

Since the beginning of her career, Carolina Cotton had been a staple of Western Swing radio shows. Most of the early bands she performed with were heard on programs within the Los Angeles area. While touring, there were often guest appearances on radio stations across the US.

On each broadcast, she often sang at least one song she had recorded, such as Three Miles South of Cash, Singing On The Trail or Chime Bells. But it was always a treat to hear her renditions of other popular songs...tunes like I'm Gonna Round Up My Blues, He's a Tough Hombre, Tennessee Saturday Night or Golden Slippers. (and you'd never know when she'd let out a yodel or two!). Spanish songs were even thrown in from time to time: Farolito, Cachita and Mama Yo Quiero were favorites.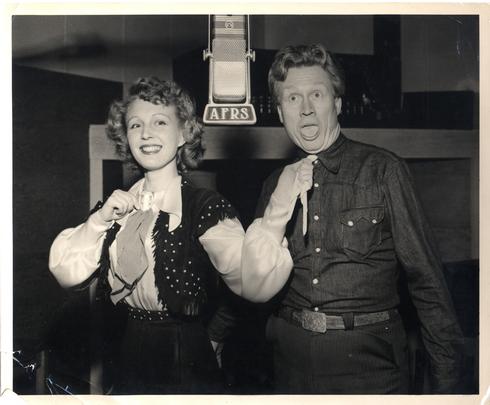 "Look who I found!" Carolina and Redd Harper clowning for the camera, ca. 1949. Redd Harper's Hollywood Roundup was heard around the globe, on the Armed Forces Radio Service. She guest starred on several episodes. Carolina's badge seems to be from the All Western Days celebration in El Cajon, CA.


Sometimes Carolina guested on shows hosted by celebrities she'd worked with over the years. On one episode of the Smiley Burnette Show, she sang Cause I'm In Love, as he accompanied her on the Nova-chord organ. Pee Wee King also joined in. (The performance was pre-recorded at Smiley's home studio, and broadcast on his program).

Many of Carolina's memorable performances were for the Armed Forces Radio Service. One of her earliest appearances was as a regular costar, on the AFRS Ranch House Party. Foy Willing and the Riders of the Purple Sage provided most of the backing music, as well as the Plainsmen. The show ran from 1946-47. Later, there were a few guest spots of Redd Harper's Hollywood Roundup, as well as Command Performance. Of course there was also her own radio program, Carolina Cotton Calls, which brought together the talents of Darol Rice, Hank Caldwell, George Bamby, Slim Duncan, Mike Barton, and many others. But perhaps her most well-known guest spots were featured on the Navy Country Hoedown series. She guest-starred with Merle Travis (I'm Gonna Sit Right Down and Write Myself a Letter), Tex Williams (Tater Pie) and Ernest Tubb...producing perhaps her most beloved radio performance of all, the Cattle Call.

These radio shows were preserved on 78RPM acetates and 16 " transcription discs. Many were lost over the years, but luckily some of them survived, for future generations to enjoy.

_________________________________________________________

THE BEAT GOES ON: MORE MUSICAL ADVENTURES


The Yodeling Blonde Bombshell took part in many colorful musical moments. Some are lesser-known but just as intriguing. Here are a few of them:

In the 1940s, Carolina did voiceover work for an innovative theatrical series called "Speaking of Animals". Created by animator Tex Avery and sold to Paramount, these comedy shorts combined live-action animals with animated mouths so they could "speak" (yes, they were the forefathers of today's computer-animated talking animals). In the short called "The Hill-Billies", Carolina was the voice of a cute little bonnet-wearing pooch. The highlight was a doggie-dancing hoedown, where Carolina--er, the puppy dog--sings a special version of "I Love To Yodel". Years later, in the mid 1990s, Radio Shack featured a clip of this scene in one of their TV commercials.

Smiley Burnette had a his own home recording studio in the 1950s. And a visit from Carolina to the Burnette household would often end up in a recorded jam session. One of these sessions can be heard on the Smiley Burnette Show radio program (#187), as she, Smiley and Pee Wee King all join in and perform "Cause I'm In Love".

Another little-known musical adventure took place in a different innovative home recording studio...that of Les Paul and Mary Ford. What was it like to record there? Carolina used to recall with a laugh, "There was so much stuff in there that we had to climb through the window to get in and out!" It is not known if any of their recordings survive today.

Years later, in the 1970s, yet another recording studio get-together took place. This time it was in Bakersfield CA. Carolina had since left her Show Biz career to become a teacher, but as they say, "Once a yodeler, always a yodeler..." A few well-known country musicians who helped craft the "Bakersfield Sound" found out that the Yodeling Blonde Bombshell was in their backyard. Bill Woods (from the early days of Buck Owens, Merle Haggard and the Blackboard Club) held a jam session at his studio and recorded it. (Again, it's unknown whether the tape survives). She also sat in occasionally at jam sessions with Buck Funderburk, and at the local Grange Hall, with the Old Time Fiddlers.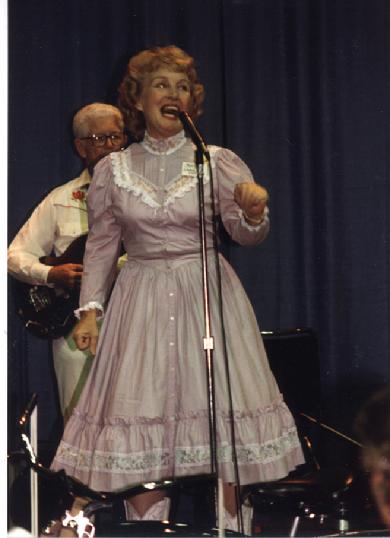 Performing at the Western Film Festival, 1986. The Tennessee Ramblers accompanied Carolina as she sang "I Love To Yodel".

The 1980s and 90s held some golden musical moments for Carolina at the many Film Festivals she attended. These were held in southeastern cities like Memphis, Knoxville, Charlotte, and Atlanta. Bands like the Tennessee Ramblers were on hand as Carolina sang "I Love to Yodel" and "Lovesick Blues". For a finale she would call upon someone (usually a Film Festival committee member) to sing a fun duet of "Three Miles South of Cash". A good time was had by all.

Carolina was once asked if she still sang anywhere regularly. "Sure", she said, "every morning (at school, after reciting the Pledge of Allegiance, singing): 'My country 'tis of thee...' !" As an educator, Carolina sang many a tune in the classroom. And many a student grew up with fond memories of their yodeling teacher.
| | | |
| --- | --- | --- |
| | In 2001, Carolina Cotton was honored by the Western Music Association, by her induction into their prestigious Hall Of Fame. (Click on the WMA logo, right, to visit the site and learn more). | |



CAROLINA COTTON DISCOGRAPHY



TITLE..............................................................................LABEL..................................DATE

Carolina Cotton and Deuce Spriggens:

What's the Matter With You.........................................Mercury 6010.........................1945
I Been Down in Texas....................................................Mercury 6010.........................1945
(the Mercury session was recorded with Deuce Spriggens and His Orchestra)

Carolina Cotton:
Three Miles South of Cash (in Arkansas)......................King 572A.........................fall 1946
Singing on the Trail......................................................King 572B.........................fall 1946
(accompanied by the Hank Penny Orchestra)
Mockingbird Yodel.........................................................King 816..........................fall 1946
(accompanied by the Hank Penny Orchestra)
I Love to Yodel.............................................................King 816...........................fall 1946
(Other songs were recorded
during this session, but were unreleased.)

You've Got Me Wrapped Around Your Finger..............Crystal 157.............................1947
(with the Broome Brothers)
Chime Bells.................................................................Crystal 157.............................1947
(with Henry Schelb Orchestra)

Put Your Shoes On Lucy.............................................Mastertone 75-39.................1949
Hoosegow Serenade (with Scotty Harrell)...................Mastertone 75-40.................1949
The Old Square Dance is Back Again (w/ Scotty Harrell)...Mastertone.......................1949

You're Gettin' a Good Girl...........................................MGM 10692A.........................1950
I Betcha I Getcha........................................................MGM 10692B..........................1950
Boo Hoo Blues............................................................MGM 10798A..........................1950
Lovin' Ducky Daddy....................................................MGM 10798B..........................1950
Nola............................................................................MGM 11329A..........................1952
Yodel Yodel Yodel........................................................MGM 11329B.........................1952

Carolina Cotton (with Bob Wills and the Texas Playboys):

Three Miles South of Cash...........................................MGM 5153137.......................1951
I'm All Alone................................................................MGM 5153137........................1951
You Always Keep Me in Hot Water...............................MGM 11130A..........................1951
Cause I'm In Love.........................................................MGM 11130B..........................1951

ALBUMS:
Compilation:
Swing Billies Vol. 2.......................................................Audio Lab 1566..........early 1960s
(features early King recordings previously released)

Carolina Cotton:
I Love to Yodel..............................................................Cattle 128.............................1993


For more lists of Carolina's songs, check the Filmography, Radio and Soundies sections.

__________________________________________________________












| | | |
| --- | --- | --- |
| Three Miles South of Cash / King label | I Betcha I Getcha / sheet music | Boo Hoo Blues / MGM label |