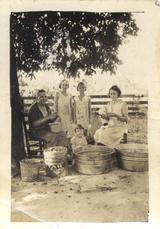 Canning peaches on the family farm, ca. 1934


Many years ago, not far from the foothills of Arkansas' Ozark Mountains, a little girl braved a hot dry summer on her family's farm. It was 1934, and the South faced a terrible drought, sitting on the outskirts of the great Dust Bowl region. Things didn't look good for the farm. Crops dried up, and money was scarce. But the young girl never lost hope.

"Sure was good to hear from you", she wrote to her parents, who were halfway across the country, looking for work. "Hope I can sell all of my books. I will get $25 (for the family) if I sell them all". Like Pollyana in the Glad Books she read, this little girl looked for opportunities and always saw the glass as half-full.

Little did she know that her enthusiasm would carry her far beyond her wildest dreams...


__________________________________________________________
__________________________________________________________




(NOTE: Quotes are Carolina's own words, taken from various interviews over the years)


3 MILES SOUTH OF CASH IN ARKANSAS...THE BEGINNING
_________________________________________________

Carolina Cotton was born Helen Hagstrom, October 20th 1925, and raised on the family farm...just 3 miles south of her native town of Cash, in northeast Arkansas. Mother Helen Dodson had studied business, and father Fred Hagstrom was a Swedish chef. Helen's sister Winifred was 2 years older. (The two siblings would remain very close through the years). Helen's grandfather, George W. Dodson was head of the farm. Grandma Della (Boyd) Dodson often looked after the young children.

Little Helen loved the special occasion of going to the movies and watching the Westerns. She often sang along to songs on the radio, and even tried her hand at yodeling to them.

When the Depression and Drought years came along, times grew hard on the Dodson farm. Helen's parents went to Colorado to find work, finding luck in Denver. So Helen and her sister headed Westward for a happy reunion:

"In 1935, we were havin' a Christmas vacation and the whole family went to Denver. Then we picked a spot on the map we liked the sound of, it was Klamath Falls, and it was a place we hadn't ever been in, so we packed and took off, Mama, Daddy, my sister Winifred, and me. Well, we went to Cheyene, then Scott's Bluff, Nebraska and then to Caspar, Wyoming. Daddy worked in Caspar and bought the landlady's car for $45. When we got to the top of a mountain near Bend, Oregon, the transmission or whatever you call it, fell out; the whole bottom works. We got pushed into Bend and Daddy sold the car for $25. Imagine sellin' a car for $25!

"Well, we lived in Portland and Seattle and Sacramento and finally daddy went to work in Ignacio, that's near San Francisco and we lived on a big ranch. And we stayed there."

The family spent a year or so altogether traveling around, and finally settled in San Francisco.

Helen, now a Junior High School student, began taking dance lessons from the O'Neill Sisters, and soon joined their popular O'Neill Sisters Kiddie Revue. They often performed at the Golden Gate Theatre. It was there that Helen got her taste of Show Biz and liked it! She also performed numbers at the 1939 Worlds Fair.

Around that time, she tried her luck on an amateur radio contest:

"...it was so funny but when that song "The Love Bug Will Bite You If You Don't Watch Out" was popular is when it happened. I went to keep my girl friend from gettin' too scared, she was tryin' out on Larry Keating's program and she was goin' to tap dance only she never got up enough courage. Well, they wouldn't let me in the studio (to watch, as a non-contestant) so I was in the music library and somebody give me the song, you know "The Love Bug Will Bite You if You Don't Watch Out," and I sang it."

Yep, she won. And attracted the attention of another local radio talent, Western Swing band leader Dude Martin.

Helen began visiting the studios of KYA Radio after school to watch Dude and His Roundup Gang perform. She got to know the band and was influenced by the yodeling of their female vocalist Arvada Miller. When Miller left the group to be married, Helen got her break: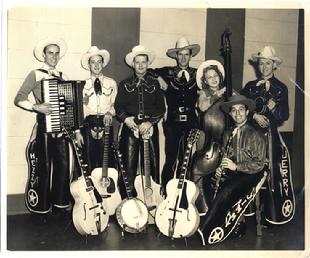 Carolina with Dude Martin's Roundup Gang, ca. 1943. She learned to double on different instruments (bass, in this photo) as well as sing and yodel.


In order to stay on the radio, the Musicians Union ruled that bands must have 7 Card-carrying members. This was during World War II, and whenever one of Dude Martin's bandmates was drafted into the military, Martin was forced to get a replacement, or get kicked off the air. So along comes Helen, who not only could sing and yodel some, but also had a Union Card! She joined the Roundup Gang in August 1942.

By 1944, Helen and the Roundup Gang had a very busy schedule:

"...I was doin' 17 broadcasts and 5 dance jobs a week, and then I was studyin' harmony and arrangin', and goin' to school at the same time.

"We did a broadcast and rehearsal at 6:30 every morning and then I'd go to school. After school, I'd get on a train that goes across the bay, and take a li'l ole street car, let's see it was two street cars and the train...every day and I'd go over to Richmond (East Shore Park) for another broadcast. And we did a show, too. That was at 5:30. Then we had supper and we did a dance job and another broadcast at 10:45. On wednesdays we did a Cowboy Hit Revue and on Saturday afternoons I did a fifteen minute broadcast in the afternoon."

Helen was now a bona-fide member of the Roundup Gang, but she needed a name change. The stigma of Arkies and Okies was still a problem in those days. Since Helen was from Arkansas (and wasn't a very exciting stage name), she was given the nickname "Carolina".
__________________________________________________________

HOORAY FOR HOLLYWOOD...THE BIG DECISION
_______________________________________

In the summer of 1944, Carolina went down to Hollywood to buy new costumes from famed Western clothing designer, Nathan Turk. She expected to get a nice outfit or two, and then return to her routine in San Francisco. But it turned out to be a bit more than she expected: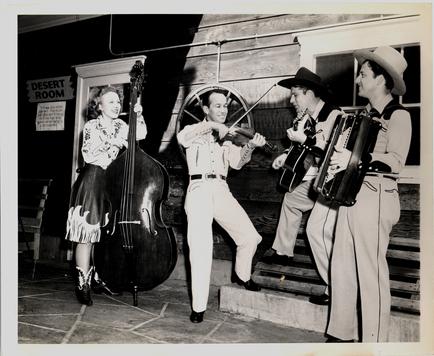 Spade Cooley band, at the Riverside Rancho (outdoor BBQ party), 1944. Since her days with Dude Martin, Carolina often filled in on upright bass. (By the way, the sign to the left reads: If you have been refused admittance to the bar and have positive proof of your age, please speak to the officer in charge, who will give you a card of admittance).


As luck would have it, she literally bumped into entertainer / songwriter Johnny Marvin! The two carried on conversation for awhile, and he invited her to a big Hollywood Film Party, where she ended up meeting the cast of the movie National Barn Dance...Pat Buttram, Lulubelle and Scotty, the Hoosier Hot Shots and many others from the film. This later led to a trip to a Hollywood nightclub, where Carolina met bandleader Spade Cooley and his Orchestra. Marvin encouraged her to sit in with the band, so she got up and sang a number with them, and the audience loved her!

Once Carolina returned to San Francisco, she soon got a phone call from her newfound friend, Johnny Marvin. He offered her a part in a B movie down in Los Angeles. But now she was faced with a big decision: She was forced to choose between staying with Dude Martin in the Bay Area, or moving to Hollywood. It brought her to tears, but friends and family encouraged her to choose Hollywood. So Carolina packed up, and moved to Los Angeles.

Her first movie was Republic Picutes' "Sing Neighbor Sing", with Roy Acuff (NOTE: for more details on Carolina's movie career, please visit the Films page). Around the same time, she joined Spade Cooley's band and made her yodeling debut in the movie "The Singing Sheriff" (Bob Crosby / Universal).

The Spade Cooley Orchestra entertained packed crowds nightly at LA's popular Western club, the Riverside Rancho. At that time, Cooley's band also included legendary musicians Tex Williams, Joaquin Murphey, Smokey Rogers and Deuce Spriggens. The band was also heard on KNX radio's "Hollywood Barn Dance", and made soundies--an early form of music video.

Cooley's manager was a very clever businesswoman named Bobbie Bennett...one of the first female promoters. (In the beginning, Marvin was Carolina's manager, and eventually Bennett became her manager throughout her career).

Meanwhile, Carolina still didn't have a last name, so Bennett held a contest down at the Rancho, to find her one. The winning name, of course, was Cotton. It was suggested by Santa Monica resident Sharon Carter.

Carolina made a 3rd movie, PRC Pictures' "I"m From Arkansas". With Spade Cooley's band she began filming at Columbia Pictures: "Outlaws of the Rockies", "Texas Panhandle", and "Song of the Prairie"


Carolina and Deuce (aka George Braunsdorf), ca. 1945-46. They were married barely over a year, when they divorced. Few people knew about the marriage, and over the years Carolina chose to keep the details private.
_________________________________________

THROW A SADDLE ON A STAR: MOVING FORWARD
__________________________________________

During this time, Carolina became romantically involved with the Spade Cooley Band's bassist, Deuce Spriggens. The two were secretly married in June 1945. Before long, Carolina and Deuce left Cooley's band, and took a few band members along with them (see the Music page). Together with left-handed fiddle player Tex Atchison and the popular Plainsmen Trio, they formed the Deuce Spriggins Orchestra--a group that easily rivaled Cooley's in musicianship. Spriggens' band also made a few soundies, and appeared in 4 Columbia films: Song of the Prairie, That Texas Jamboree, Cowboy Blues and Singing on the Trail...all with Ken Curtis, and the Hoosier Hot Shots. There were also more radio shows, and a house gig at the newly remodeled Western Palisades Ballroom, on the Santa Monica Pier.

Carolina and Deuce appeared to get along well, but eventually the marriage suffered. The couple divorced in 1946.

In spite of all this, the Yodeling Blonde Bombshell moved on without missing a beat. She went back to the Riverside Rancho, to perform with Hank Penny in the Fall of 1946. At the same time, Carolina signed a recording contract with the newly-formed King Records label. They released 4 songs, one of which was the tune she wrote about her hometown, "3 Miles South of Cash (in Arkansas)". She soon joined Ken Curtis, Foy Willing and the Riders of the Purple Sage, The Plainsmen and Cottonseed Clark on the well-known AFRS Radio series, "Ranch House Party". Meanwhile, she was becoming equally popular at rodeos, after having learned to ride for films. Like everything else she tackled, she took on the equestrian field 110%, and soon became known as an Outstanding Horsewoman, and began appearing as Grand Marshalette at many parades and fairs.

In June 1947, Carolina Cotton went on the road, touring with Bob Wills and His Texas Playboys.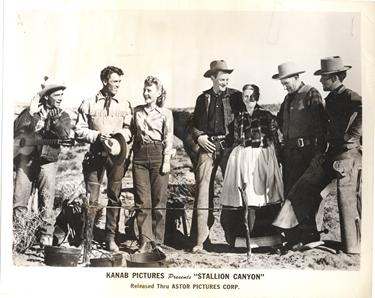 cast of Stallion Canyon, 1949.




Smokey River Serenade was her next picture, and she recorded 2 songs for Crystal Records.

In 1948, Carolina became one of the first female disc jockeys in the country, landing a half-hour show on KGER in Long Beach. She also appeared on other programs, like the popular KMPC Westerners (see photo on the Radio page).

Television beckoned, and Miss Cotton landed a spot on KLAC-TV's Sunset Ranch, a local LA show. She also began making guest appearances on other local TV shows. In between, she made another movie, Smokey Mountain Melody, with Roy Acuff.

In the Spring of '49, Carolina Cotton toured with the famous Sons of the Pioneers, making her the first "Daughter" to tour with the group. She made 1 film with Utah-based Astor Pictures, "Stallion Canyon", with Ken Curtis. Carolina continued her guest appearances on Radio and TV, at parades and rodeos, and started to become a popular attraction at charity benefits, like the annual St Mary's All Western Days of El Cajon, CA (see Appearances page).

_________________________________________________________


QUEEN OF THE RANGE: BIG PLANS FOR THE SMALL SCREEN

_________________________________________________________


By 1950, things were really coming together for Carolina. In January she made her Big Apple debut, at New York's Greenwich Village Barn. The critics gave her the thumbs up. Nick Kenny of the New York Daily Mirror wrote: "New York City!!! Calling all cities! These appearances of Carolina Cotton on the TV from the Village Barn are something."

Carolina's film "Feudin' Rhythm" (completed the year before) was still playing in theatres. Right on its heels was another Eddie Arnold film she made, "Hoedown" (see Films section for clips). And she just inked a new recording contract with MGM Records, where she recorded such favorites as Boo Hoo Blues, and I Betcha I Getcha.

Carolina continued guest spots on several TV and radio shows, as well as doing live appearances. She was becoming quite a regular on the parade and rodeo circuit, while getting more involved in charitable organizations. Chances are if ther was an event worth having, Miss Cotton would be there! Without a doubt, the Yodeling Blonde Bombshell was winning the hearts of fans. And it was during a Texas tour that she won the interest of some investors, who were willing to back plans for Carolina's own TV series. The program evolved under several working titles such as "Gun Notches", "Adventuring with Carolina Cotton" and "Queen of the Range".

The show would cast Carolina Cotton as herself, portrayed as a female Hopalong Cassidy...a rip-roaring, ridin', shootin', bronco-bustin' cowgirl.





Scenes from the proposed Carolina Cotton TV series, "Queen of the Range". Clockwise, L-R: Stunt lessons were given by Red Wing; Marksmanship guidance came from LA Police officer Mickey Finn; Carolina rides off into new adventures; Villian "under foot", as she wrestled him to the ground.


It would be the kind of action-packed show that would rival Annie Oakley. (In fact, Carolina was originally asked to play the part of Oakley, but turned it down to play herself in this new series). Manager Bobbie Bennett launched an all-out publicity campaign. Toy manufacturers were set to put out 25 different Carolina Cotton items, including a doll, and gun-and-holster set.

Meanwhile, Carolina went to work. She learned stuntwork from Red Wing, while taking judo and marksmanship from LA Police Officer Mickey Finn. On this TV show, SHE would handle the bad guys, yet still keep her feminine touch. SHE would leave the cowboy on the porch, and ride off into the sunset!

Most critics and fans loved the idea. Yet a few were skeptical. One critic wrote, "Little girls will toss other gals, and break out their six guns". It's not known who else may have shared this negative viewpoint...after all, this was a bold idea for and era when women usually played a more conservative role. Sadly, Queen of the Range never materialized. We can only imagine what might have been.

_________________________________________________________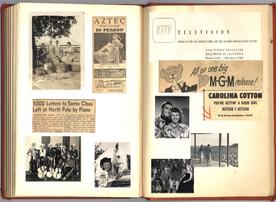 The story continues...Click here to read Part 2